FOR IMMEDIATE RELEASE:
Robert, LA, April 26, 2013 – SeaTrepid International, LLC, is proud to announce that it has added two 3000 meter Sub-AtlanticTM Comanche Light Work Class Remotely Operated Vehicles (ROV) to its fleet of 37 Observation, Mid Class and Light Work Class ROVs. The Comanche comes complete with A-frame Launch and Recovery Systems, 20 hp Hydraulic Power Unit and over 9,000 feet of main lift umbilical.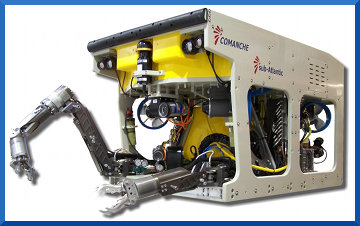 With its 15 kw/20 hp HPU, the SeaTrepid Comanche ROV system provides exceptional tooling capabilities and has been designed for the following tasks among others:
Construction IRM – cleaning, cutting, jetting, dredging and NDT applications
Drill/Rig/Completion Support
Well Intervention – AX/VX gasket change out, BOP shutdown, hot stab operations, Class 1-4 torque tools
Survey – Pipe and cable tracking, single & dual head multi-beam sonars, sub-bottom profiling, pipe profile sonars, leak sensor
Additionally, when compared with hydraulic work-class systems, the Comanche provides important customer benefits with regard to capital and operational expenditure, simplicity of use and requires less deck space.
Bob Christ, SeaTrepid's President and founder said, "The acquisition of these two 3000m Comanches reflects SeaTrepid's commitment to meeting our customer's growing deep water intervention needs. The Comanche has proven itself to be a dependable and extremely capable ROV system and we are pleased to add this deepwater capability to our current ROV fleet."
About SeaTrepid
SeaTrepid International LLC is a Remotely Operated Vehicle service company specializing in terrestrial as well as underwater robotics solutions to the commercial, governmental and scientific communities. SeaTrepid is a premier provider of observation and mid-range class ROV services. SeaTrepid's capabilities include a full range of technological solutions (vehicles, sensors and tooling packages) to our offshore customer base worldwide as well as inland customers nationwide. SeaTrepid has developed a strong reputation built upon a proven track record of success based upon our "Excellence Underwater". For further information visit www.seatrepid.com