Robert, LA – Louisiana's First Congressional District Congressman, Steve Scalise, visited SeaTrepid in Robert, LA in order to get a feel for robotic technology's footprint within his district. During the visit, Congressman Scalise and his aides attended a brief presentation from SeaTrepid's President, Bob Christ. Mr. Christ explained the SeaTrepid goals of bringing offshore robotic technology to the Northshore economy, hiring our nation's veterans, and keeping our revenue dollars local to grow and support small businesses within the First Congressional District.
Also during the visit, Congressman Scalise toured the SeaTrepid Campus, delved into our ROV simulation tools used for training technicians, and even flew one of our Outland 1000 ROVs in the SeaTrepid test pool using the manipulator to clear debris from the bottom. The SeaTrepid Operations Department led by Mr. David Selby, General Manager of Operations, provided support with our Light Work Class Comanche ROV in order to demonstrate to Congressman Scalise the versatility of the company, its employees as well as SeaTrepid's fleet of ROVs.
SeaTrepid appreciates this excellent show of support by our Congressional Representative demonstrating that he is, indeed, interested in small technology-based business within the Southeastern Louisiana District.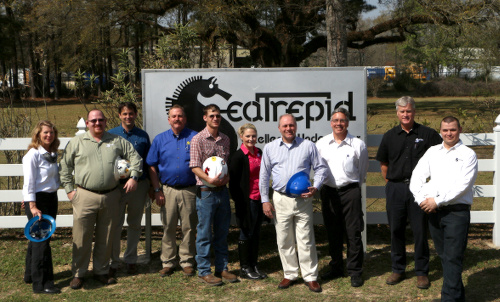 About SeaTrepid
SeaTrepid International LLC is a Remotely Operated Vehicle service company specializing in terrestrial as well as underwater robotics solutions to the commercial, governmental and scientific communities. SeaTrepid is a premier provider of observation and mid-range class ROV services. SeaTrepid's capabilities include a full range of technological solutions (vehicles, sensors and tooling packages) to our offshore customer base worldwide as well as inland customers nationwide. SeaTrepid has developed a strong reputation built upon a proven track record of success based upon our "Excellence Underwater". For further information visit www.seatrepid.com